If you're like most of us at AdamsGabbert, you're really missing your gym right now. There's plenty of extra stress to go around during quarantine, and since we're out of our normal routines, a lot of us find ourselves snacking more than usual.
We make it easy for AG associates to access the gym by covering their membership to a local club, where several of us work with fitness consultant Deidre Jordan. While we're still under quarantine orders, we turned to Deidre to share some basic workouts we can all do at home, without any fancy gym equipment. Check out Deidre's first workout – No Weights? No Problem! – and stay tuned to our Facebook page for quick tips for strengthening your core, toning your upper body, leg day, and much more!
About Deidre Jordan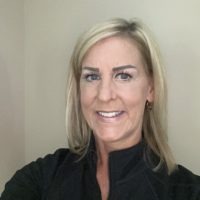 Deidre is a NASM, CES certified personal trainer. She has certifications in spin, mat Pilates, Barre, kettlebells and small group training. Over the years Deidre has run highly effective weight loss and health-oriented programs, taking an extremely hands-on approach to help clients achieve maximum success. She's a versatile trainer with experience in sports-specific training, pre- and post-surgery rehabilitation, and she places great emphasis on personalizing each program for every client. Deidre has trained clients of all ages and has the knowledge and ability to push the limit and modify as needed to help each person perform at their absolute best.
Don't miss Deidre's workouts! Follow us on Facebook to follow along at home.
Stacy Rose serves as AG's COO and partner, where she is a driving force in AG's explosive growth. Surprisingly different, obsessed with innovation and creators of deliberate impact. We are the real deal. AG is a technology services firm where trust, transparency and collaboration matter.  By investing in our people and community we bring our partners the best talent and strategic solutions. We are proud to be a certified Woman-Owned Business (WBE). We love Kansas City, and we have a lot of fun supporting our partners. We are AG.
Let's Accelerate Together.
Share your thoughts on LinkedIn, Facebook, Twitter or Instagram!