Connectivity. Accessibility. Productivity.
None of it happens without the right IT partner by your side.
In these uncertain times, it's more important than ever to be available to your clients and your employees. But ask yourself: Do you have the right tools in place to ensure you and your distributed team can collaborate remotely? Is your valuable data as secure as it could be? Who can you call when you have an IT emergency—and will they answer?
One thing is certain: IT support should be easy and accessible when you need it, so you can get back to business.
When it comes to choosing the right remote workforce solutions for your business, solving IT problems as soon as they arise, identifying risks and safeguarding your data, AG is the real deal.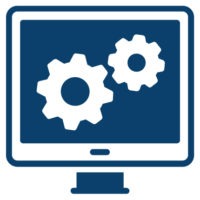 Remote Workforce Management Software
Support Desk

Proactive Monitoring and Management

Data Accessibility
Schedule your free virtual assessment today!
Let us help you implement the work-from-home setup that's right for you. We start by assessing your existing environment, and we stick with you all the way through implementation and beyond to make sure your team fully adopts the new technology.
If you'd like to learn more about our robust suite of tech services for small businesses, scroll down—then give us a shout. We're here to help.
---
---
Supporting People who use Technology
---
---
---

Support Desk
When something unexpected happens with technology, we'll be there. We are accessible 24/7/365 through our ticketing system, remote support tools, phone and onsite support.
Drop a laptop and need to retrieve the data from it?
Depending on the damage, we will work with you to retrieve data from the device or an existing backup and/or replace the device.
Spill coffee on your keyboard or laptop and now it doesn't work?
Hopefully you didn't have creamer in there too…keyboards just like it straight.
Do you have that one person in the office you have deemed the "IT Person," when in reality they are just the youngest person in the office?
They now have an escape and can call us!
Wi-Fi is super slow around lunchtime, or people can't access the Internet?
Netflix can be blocked, and your neighbors removed from your Wi-Fi.
Forgot your password and can't log in to your computer?
As long as you can power it on and connect it to the Internet, we can help you out.
Feel like your computer is taking a nap every time you try to start it up?
Happy to recommend a replacement/upgrade device to improve your experience.
Lost your laptop, or had it stolen?
We can remotely wipe the device and make it self-destruct the next time it connects to the internet. (Ok, not really self destruct, but you know…)
Forget where you parked your car?
We can't help you there.

Proactive Monitoring and Management
Early identification of technical issues helps minimize the impact to your business and helps limit IT tickets to the immediate needs of your business. By proactively identifying and addressing risks to your IT systems, we help keep your IT invisible and secure.
Do you get frustrated when your computer slows down and needs to run hours worth of updates?
Wouldn't it be nice to be able to schedule these updates at a more convenient time?
How do you know if you have the latest and greatest security patches available?
Our 24/7/365 monitoring software will alert our techs as soon as new patches are available.
When your computer starts, does it sound like a lawn mower?
What's that noise?!?! We can detect and replace failing equipment before it stops working to avoid costly downtime and lost data.
Are you running out of hard drive space?
Maybe it's time for some upgrades! We install the parts you need to keep your machine running at peak performance.
Is it time to upgrade to Windows 10 or another operating system?
Let us help with that! We have the experience needed to make this transition smooth and easy.
Need something resolved without someone coming onsite to fix it?
We can quickly and securely remote into your computer and address the issue.

Data Accessibility
Your data is important to your business, and valuable to hackers or your competitors. We will work with you to implement standardized data access and backup processes and tools to minimize the risk of losing data.
People complain about not being able to find files or information on your systems?
We have been there and felt that pain. Let us help streamline your access to documents.
Can you only access your files if you are physically in your office? Would you like to be able to work on files remotely?
I mean, it is 2020! We will have you working all over the world!
How do you manage who has access to what information in your office? Do you know who has access to all your files?
That's something important to know. Let's take a look and work out a plan.
Would you like to be able to share and manage files with clients outside of just emailing documents?
Let us open up a whole new world of data sharing while protecting your proprietary information.
Do you have a plan to restore your data if it is compromised?
Hackers hack. We offer solutions to minimize their threats.
Do you have multiple versions of documents being shared with clients or internally causing re-work of the issues?
THIS IS THE WORST!!! Let's talk about version control.
AdamsGabbert helped find the right remote workforce solutions for my small business and made sure my entire team was trained on how to make the most of our Zoom meetings.Joan Charbonneau, CEO, Perfect Promotions