How do you celebrate not one but two major milestones? With your closest colleagues, clients and friends, of course!
We recently rolled out the red carpet to celebrate both AdamsGabbert's 20th anniversary and our new digs in Corporate Woods. We've certainly come a long way as a company over the past two decades – especially the last five years – and we see our new space as the launching pad of the next exciting chapter for AG.
A workspace that is 100% AG
We had lofty goals for the space: We wanted to create an environment that encourages collaboration and nurtures creativity—an open workspace with clean lines, a dynamic, productive place where team members want to come to work and where clients feel welcome.
In short, we wanted a place that reflects us.
Our partners at Scott Rice Office Works helped us transform our vision for the 5,500-square foot space into reality, creating adaptable configurations to accommodate our team members' differing work styles. For relaxed, free flowing conversation, there's a tucked-away nook with a curvy sectional sofa; for privacy, we included cozy acoustic chairs that block out noise. Our open kitchen area invites impromptu discussions over coffee, lunch or chocolate. And for capturing those light bulb ideas in the moment, our walls double as dry erase boards. We're even thrilled with our new storage space, where Office Manager Zach Wagner's mad organizational skills shine!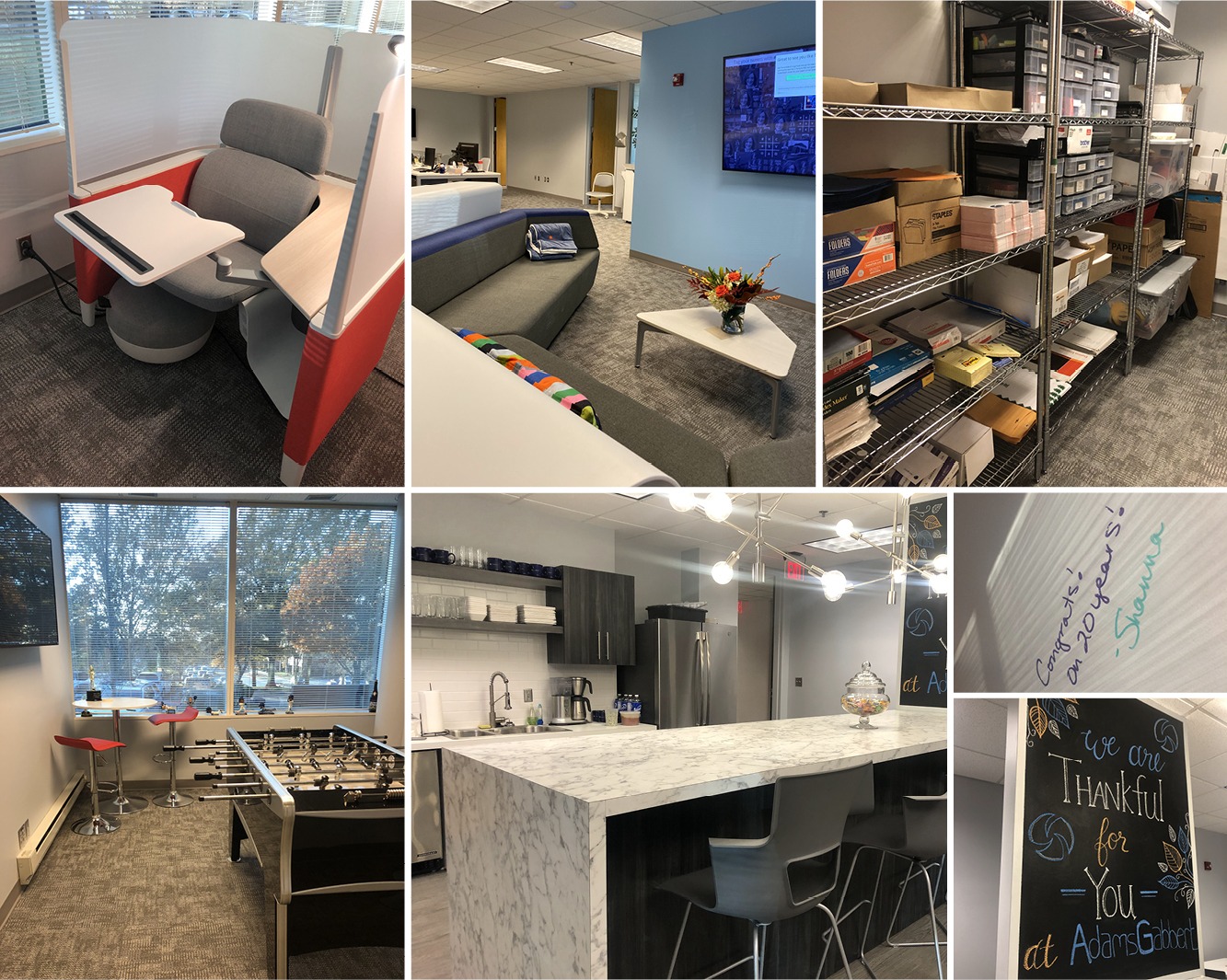 Bringing in our brand
The AG brand is woven throughout. The muted glow of the AG name and logo in lights catches your eye as soon as you enter and has quickly become our favorite selfie spot.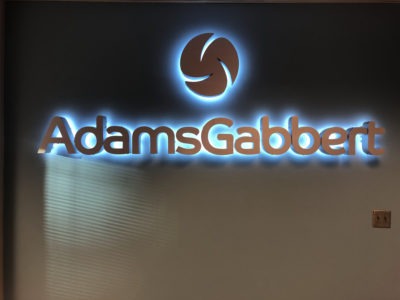 As you move through the office, you'll see our signature colors – poppy and blue – tastefully incorporated into furniture and accent pieces. There's also plenty of green on display through our wall of west-facing windows, with a stunning view of Corporate Woods' lush landscape. The words that capture the essence of what we do for clients – "Accelerate together" – are prominently displayed on a wall that's visible from nearly everywhere in the office.

And in a nod to our hometown, we named our conference rooms after the team's favorite KC watering holes – Double Shift Brewing Company, Somerset Ridge Vineyard & Winery and Restless Spirits Distilling Company.
To say we're delighted with our new space would be an understatement. We're enormously grateful to Copaken Brooks Commercial Real Estate, Miller Building Services Inc. and Corporate Woods designer Tracy Horstman—all valued partners in the journey to our new home.
None of this would be possible without our clients' loyal support and enduring trust in us over the years. This office is as much yours as it is ours.
So, welcome! Stop in to say hi the next time you're in the neighborhood—no invitation necessary!
Stacy Rose serves as AdamsGabbert's COO and partner, where she is a driving force in AG's explosive growth. Founded in 1999 and based in Overland Park, Kan., AG focuses on staffing services, advisory services and technology services—all designed to make business better for their clients. Share your thoughts on LinkedIn, Facebook, Twitter or Instagram!